When we teach The house, we also teach actions, likes, family words, furniture and things we can find in the house (using prepositions to locate them). You can find here some of the resources we use in our children classes (Spanish Clubs).
Listen & say … ¿Dónde está? (where is it?)
Children make craft to remember The house vocabulary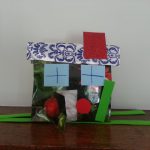 El juego de la casa – The house game (rhyme)
Watch and repeat the sentences.
¿dónde lo encontramos? – where can we find it?
Lo encontramos en la cocina – We find it in the kitchen
I have a little house song – cancion: Yo tengo una casita
Listen, watch and play in Rockalingua.com (ask us for our log in details when you come to our courses)