For school age children. This is a great resource from Rockalingua.com:
Click on the image to watch the video, play online games related to this topic and download worksheets.
Parts of the body – song for younger children: Chuchua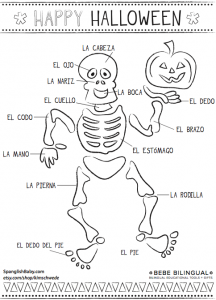 Chu chua is a great song to learn the parts of the body singing in Spanish. The best way learning is having fun and this action song is for children but I am sure will enjoy and laugh too!
You can start listening and doing the actions. The second time you hear it you can say the parts of the body and do the actions. If you are really good, you can mute the video, sing and do the actions all by yourselves!! Let me know how you go and if works for you. We appreciate all your comments!!
Do you know the parts of the body? Here you can download a printable version of the Halloween coloring sheet  from Bebe Bilingual so children can learn and practise their skeleton parts in Spanish!
¡Disfruten! – Have fun!