Speak Spanish is not interrupting the classes so we are having some of the classes in Laura's house and some others in Mercato. Please contact her if you have any questions.
From Salsa Latina's newsletter…
We're Moved to 12 Bath Street; We're currently moving into & renovating this New Dance Studio. To recap, we moved from our old studio on Fitzgerald Ave because it was cheaper to rebuild than to fix.
OPENING DATE Finalised for – Monday 21st May… This is now the confirmed start date!!
Finalising the the new studio did take up more time than we intended plus we need time to renovate & move into it. So unfortunately we have had to move the opening date another week later. From this date most dance classes will resume as normal.
Our New Studio: 12 Bath St contains; x3 Dance Studios. A Lounge area, reception & locker room. This building has also been quake repaired. There's plenty of parking overall & It's right next to South City Mall which hosts a great food court, shops, supermarket & over 200 car parks.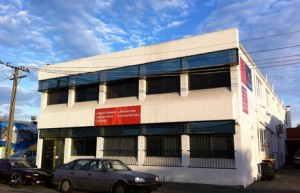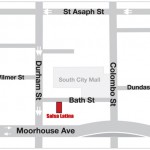 We welcome the great news and hope to see all our 2 Term students there!! Thanks for all your support during these 3 weeks.
Nos vemos pronto!