Important: The weather is not on our side. Sadly we have to cancel this picnic today. Watch this space, we will try again… Keep warm!
Importante: El tiempo no esta de nuestro lado. Lamentablemente tenemos que cancelar el picnic hoy. Esten atentos, lo intentaremos otra vez… abriguense!
Dia de la primavera! – Spring day!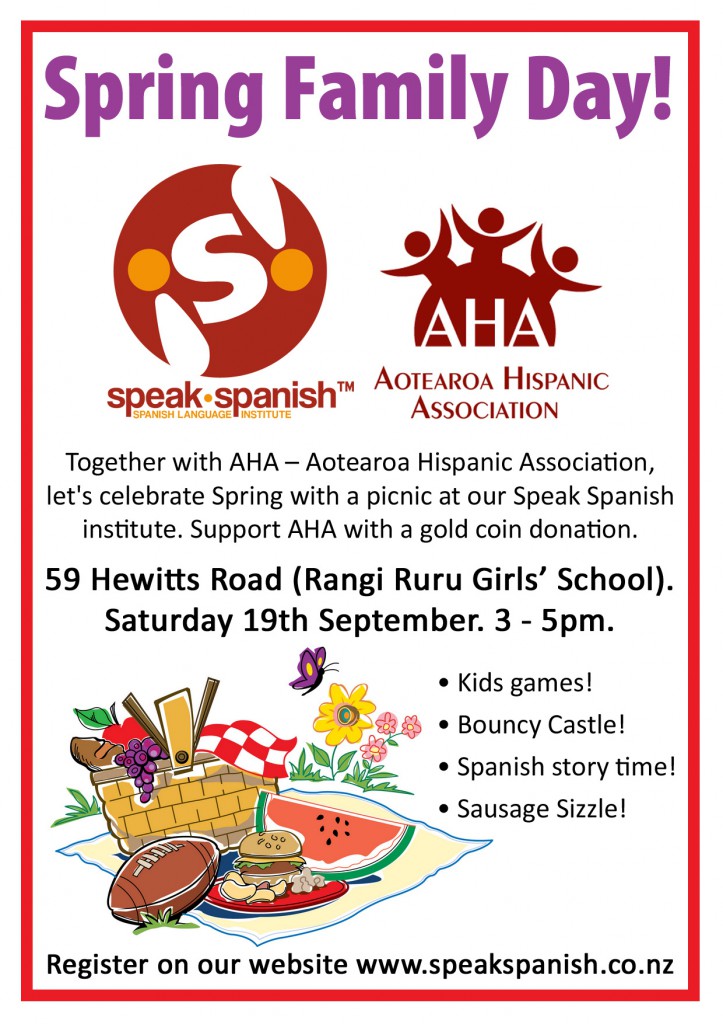 Celebracion del dia de la primavera en Speak Spanish (con el apoyo de AHA – Aotearoa Hispanic Association) – evento familiar.
Come along to celebrate Spring in our institute – 59 Hewitts Road (Rangi Ruru Girls' School) together with AHA – Aotearoa Hispanic Association. Bring your picnic mat/ chairs and something to eat & drink to have a picnic with us.
This is a gold coin donation event – the money will go to support AHA. Please register/ enrol here if you are coming, this will make things easier to organise the event. We do appreciate your enrolment!
We will offer:
*Running races from 3.30pm
*Children story time at 4.00pm in L4 room.
*Bouncy Castle
*Bbq sausages – $2 each – to raise money for future AHA events.
Please be aware this is a weather dependent event and will be cancelled if it is raining as it will be outdoors in our lawn. We will post an update for the event on the Facebook pages: AHA & Speak Spanish at 9 am on Saturday 19 Sept.