76 Peterborough Street, Christchurch Cityt
Mondays, anytime/enquire
1 - 10 hs
Jan 2, 2023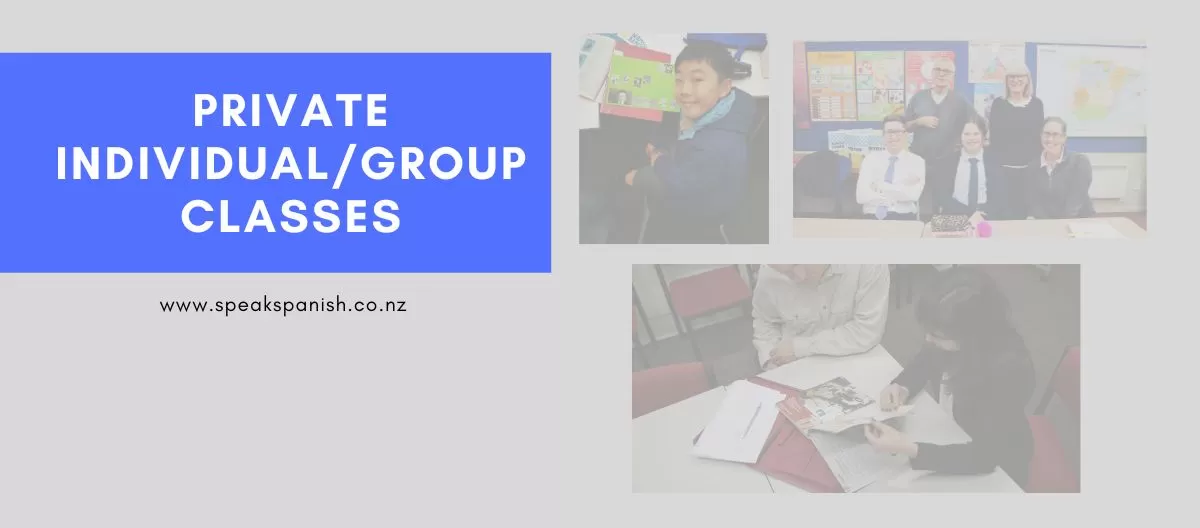 Adults, teenagers and children
We recommend you ONLY take private classes when you are not able to come to our group courses and workshops due to your schedule or a preference to work by yourself. Having private classes mean you will be able to decide when to take the class and for how long, we can organise a time and plan that works for you and your goal.
Goals can be…. For adults… be able to communicate with your partner's family, travel around South America or Spain, sit an official Spanish exam (DELE), study or work abroad. For children… to be able to communicate with extended families overseas, have a second language knowledge, boost problem-solving, critical-thinking, and listening skills, in addition to improving memory, concentration, and the ability to multitask.
It is very important to have a goal in mind when you start your language learning, it will keep you focus and help us to help you reach your goal.
Private classes are mainly held at 76 Peterborough Street, Christchurch City; in some special circumstances we do provide classes on-site too.
Online private lessons are also possible and they are 15% off our full fee.
We offer private lessons for adults, teenagers, children, families. Some adults thrive taking these lessons, they are also very good value for money when you know you cannot make it to a group class or you work shift work or travel.
We prefer children to come to our group courses though, most children feel more engaged in a group, but we know some families work better in a private setting specially when they can all learn at the same time; we have some families who like to take this option for 30 or 60 minutes a week/ fortnight. Fees are the same for all private classes whether they are children or adults.
Private classes work as a concession card, you pay for 1hs or 5hs or 10 hs in advance, we offer a discount for 10 hs; we ask you to pay in advance, as all our courses and classes and they expire in 4 months after the invoice is sent.
60 minute private class at our institute:
1 student – $69 per hour or $650 for 10 hours.
2 or 3 students – $89 per hour or $818 for 10 hours
Family private classes – please enquire; depending on ages we will offer 30 min ($44.50) or 60 min ($89), for example. 10 hs family classes $801
4 or more students – please enquire
60 minute private class online:
1 student – $69 per hour or $586.50 for 10 hours.
2 or 3 students – $69 per hour or $655.50 for 10 hours.
4 or 5 students – $89 per hour or $801 for 10 hours
On-site private classes or In-company classes please enquire.
Terms & Conditions related to our private classes – please read in full HERE
*Students wishing to enrol in one-to-one private lessons at our institute or online or at your home/ work must fill out the enrolment form in our website or send their details by email, once we receive your enrolment form and arrange a suitable schedule for the lesson/s (day & time), we will send you the invoice for it/those.
*Payment must be made within a week of receiving the invoice to secure booking. Payment in full must be made before you start your lessons.
*Speak Spanish is not responsible nor liable for any technical difficulties you may experience in the online courses which restrict your ability to complete the lessons. If the technical difficulty is at our end, we will offer to reschedule the class or go overtime, for example.
*Students should consider their personal commitments and circumstances before enrolment as we regret that fees are not refundable under any circumstance.
*Cancellations must be made by email to info@speakspanish.co.nz, at least 24 hours before the lesson is due to start. Full charge is required if the lesson is cancelled within 24hs.