Papá Noel está atascado – Father Christmas is stuck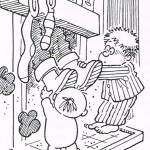 We have been working all term with the house, clothes, weather and Christmas vocabulary so children and parents built up their vocabulary to get ready to this story. Children loved it!
This is the recorded version so you can keep enjoying the story at home…
Please send us a comment if you'd like the PDF file with the story and pictures.
Villancicos are Christmas carols in Spanish, these are the ones we have been working on in 2013.
Din, don,dan…

Noche de Paz
Email us for the worksheets and lyrics for these songs
More Christmas songs here… the all time favourite Feliz Navidad and Mi burrito (my donkey)
Feliz Navidad!