What are we doing in our children & family classes?
1- We are rehearsing the song Din, don, din, dan to perform in some school assemblies as well as making beautiful theme related crafts. This help us to revise the key vocabulary seen.
2- We are making all sorts of crafts in the classes… El reno – Rudolf, the reindeer
3- We are telling a story: Santa gets stuck – Papá Noel está atascado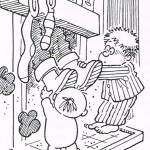 If you can't get enough, here we have some more material to celebrate Xmas in Spanish….
More songs:
More stories:
Videos about Christmas: