Culture Galore – Ray Blank Park, Ilam – 9th March 2013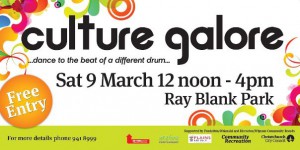 See us in the Culture Galore in Ray Blank Park in Maidstone Road, Ilam. Experience the world and celebrate cultural diversity! More than 50 different cultural performances and demonstrations, a huge variety of ethnic foods, art and crafts for sale and loads of fun activities for the whole family.
Tempt your senses and delight your taste buds with the huge array of exotic smells and flavours to sample and purchase.
Children's activities including A-MAC Bungy, bouncy castles, stone carving, soap carving, origami, face painting, Plains FM recording booth, and more.
BYO rug or chairs and make a day of it. Limited parking is available.
Listen to Plains FM and Newstalk ZM for cancellation notice.
FREE or low cost – Cancelled if wet
We'll be there talking about our classes and lessons. Come to meet us.
Hasta luego!! – See you!!