Hola a todos! – hello everybody!
There is so much to say…. keep reading especially if you are wondering about coming courses in Term 4!!!
Welcome back Eva Tejedor! We did miss you and we are so excited you are back, especially to offer the DELE preparation, we do hope we have another successful year. Last year, we had 6 students attending, completing and passing the exam with great results. This year we are offering the preparation for DELE for children as well.
Eva will be available to teach courses (including DELE), private lessons and we are re-launching our AVE + private classes please contact us to ask about fees and availability.
Loreto Araya will also be continuing teaching evening and children courses. Bridie Woods & Antonela Silenzi are helping with our Spanish Clubs on Wednesdays and Saturdays and I – Laura will remain on Head Teacher duties supporting teachers and students as well as teaching private classes and Spanish Clubs at primaries schools in the Selwyn District and Christchurch.
From Eva: I am so exciting to come back to New Zealand and mostly to Speak Spanish. Looking forward to see my co workers and long term students!! But also excited to meet new students,  I love to have new challenges …. I am ready to teach!
My time travelling and in Spain has been amazing. During my trip I met a lot of nice people, we climbed mountains, enjoyed other cultures and food, Ñammmm!!  And my time in Spain was great to 'charge batteries', have some homemade mum's food, fun and laughs with old friends and long talks with family members, aunts and uncles, cousins, nephews and nieces….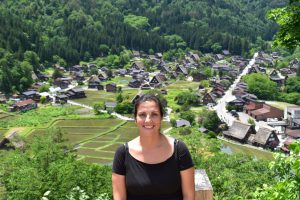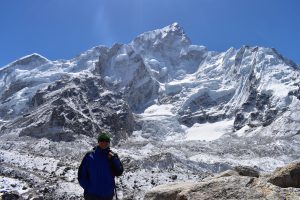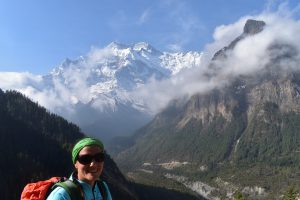 Conversation classes after Term 3
Those who have been with us for a while know that our breaks used to be longer because we had 8 week courses. This year, we have changed to 10 week courses and that means our breaks are shorter, especially at this time of year to be able to fit 10 weeks before Xmas!
Please consider your enrolment carefully- read
Term & Conditions
on your invoices and here for more information!!!
Grammar & Pronunciation workshops
These two options are worth doing if you are a Beginner or Pre-Intermediate student. Please have a look at the workshop descriptions and enquire if you are still not sure it is the right option for you!
We have been offering the Immersion Holiday Program for a while. It is still very small but I do have a lot of fun and I am keen to keep it going so children have an opportunity to practice their Spanish skills in a relaxed, fun and real-life situations and projects. We had great feedback…. especially the cooking day! Be aware the program description is the same but we offer different activities as sometimes we have the same children attending.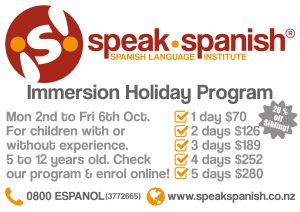 Spanish Clubs & children courses in Term 4
Please check our dates on the website.  Enrol now!
Beginners revision course + conversation in Term 4
I am going to open a new course for those students who would like to brush-up their level before starting with Pre-Intermediate 1/ conversation course. Generally students would just enrol in Pre-Intermediate but some, I am finding out, need a little bit extra help or a boost. In response to that we are opening this course…. Thursdays 6.00 to 7.30pm from 26th Oct – 10 weeks.
Congratulations Gisella! She has moved to Tauranga and has set up a sister school in the Bay of Plenty. All the best! We are so happy to keep working with you!