Hola!!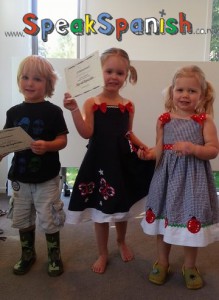 We love this photo! Gracias Chloe and Kate for letting us share it!!
Time is flying this year,  Term 2 is only 2 weeks away! Term 1 courses are finished now but we are still receiving  Term 1 end of the term tests: doing your test is a good way to finish your course and review all the content before you start with Term 2.

Adult courses – courses starting 6, 7, 8 & 9th May
The schedule is up on our website for all children and adult courses starting in Term 2, click here to see them all. You have to enrol 'rapido' as some of the courses have limited spaces.

Enrol
Please enrol on our website or send your details on an email to enrol in any of the courses. Paying your fees will secure your place in the course, there is a lot of interest in courses and some have limited spaces available.

Children courses – starting 13th, 14th & 15th May
Children classes are starting on the second week of the term on the week of 13th May in our studio, Salsa Latina and Beckenham School. The full schedule and fees are on the website. Note: we are adding a new extra time for Children + parents course 4 & 5 years old.

New teacher joining us in Term 2
Experienced native speaker teacher Beatriz is joining us in Term 2. She will be teaching Beginners 1 on Mondays and Thursdays. Read more about her in our About page. Bienvenida!!

Resources to use at home – Material we recommend
You can find a lot of material in our website and our Facebook page and Twitter. We are updating our page very frequently so 'like' us to get all links we recommend to practise at home.
Adult classes:
Flashcards verbs 1 -Print all the copies and glue the pages together. Cut them out and you are ready to start using the flashcards!!  especially for Beginners 1, 2 and 3 students.
¿Qué es un pincho? – Why don't you watch this video and find out? Pinchos are typically from Northern Spain especially the Basque country. This video is part of 'El DVD de Aula Internacional' which you can buy from us or The Book Depository as well as the books we use in class Aula Internacional 1 and 2.
Online dictionaries with audio – English – Spanish dictionaries, verb conjugators & a monolingual Spanish dictionary. Two useful links to use when you are doing your 'tarea' (homework) and you need a dictionary to translate the words you don't know or you want to check their pronunciation.
Children classes:
PlayTales story 'Mil colores' (A thousand colours) – Do you remember we used this android/ipad story in our last class? It is a great story as it reviews a lot of the vocabulary and phrases we learnt during the term, especially the 'Heladería' role-play. You can choose to read yourself or to listen to the audio.
Fruit & vegetables – Children love role-playing and even the little ones (3 years old) were up to the challenge: many children are shy  during the classes, especially the youngest ones but role-playing was certainly very encouraging for them. Buying and selling vegetables and fruit help the children to put Spanish into an every day context. Choosing already known food from the  menu was exciting too; of course most of them chose 'postre' – dessert!
Diez indiecitos – (Ten little indians) This is one of the songs we love singing in all our children classes. Great to practise the numbers at home (this is a shorter easier version from the one we use in class).

Testimonials… There are some testimonials on our website too. Would you like to recommend Speak Spanish to others? We really appreciate your comments. You can send your comments to Laura – info@speakspanish.co.nz
Keep Speaking Spanish!!
Hasta luego!
Speak Spanish
https://www.speakspanish.co.nz/
info@speakspanish.co.nz
www.facebook.com/speakspanishnz