76 Peterborough Street, Christchurch City
Thursdays, 4.00 to 5.30pm
10 Weeks
Jul 20, 2023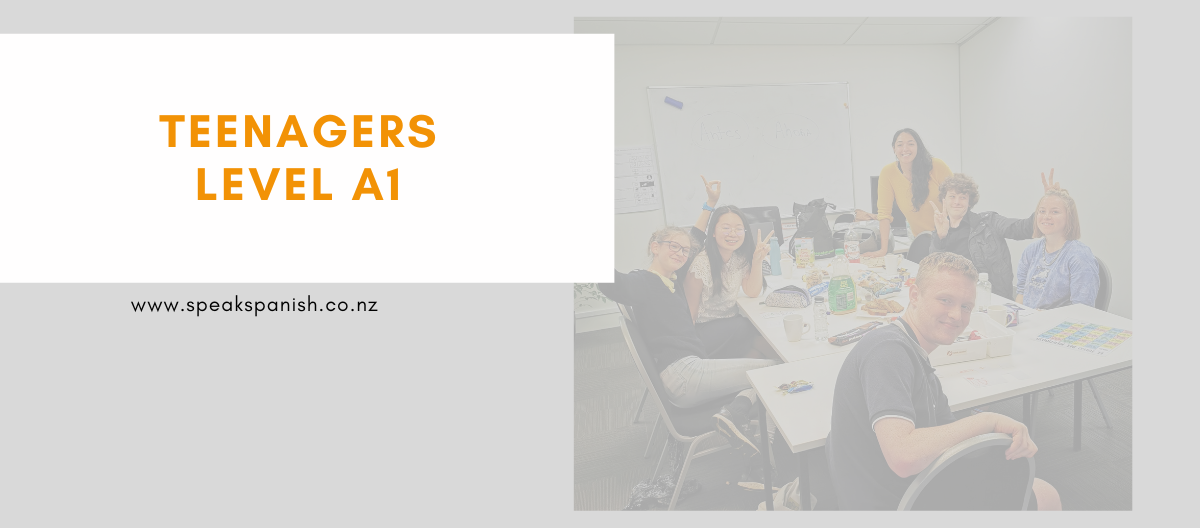 Term 3: Thursdays 20th July to 21st Sept 2023
Term 4: Thursdays 15th Oct to 14th Dec 2023
These courses are for children ages 11 to 16 years old (depending on circumstances we may accept younger students in this course). Our classes are focused on speaking so you will be speaking Spanish from the start. We like to provide a fun and relaxed environment where students are able to have fun and introduce themselves to the culture. If this is NOT the first course your child is going to do in Spanish, please book a time to have a 15 min Level Test to place them in the right course.
Please note we have 2 courses on Mondays, at the same time. This course could be for a child who is starting learning the language.
Games and real-life role-plays are a must in our classes and students really enjoy them; it does make a difference to learn and practice the language just as it is in real life!
Many of the Teenagers in this course are taking or will be preparing to take the NCEA Spanish correspondence course at their schools. Our course will provide the extra support and speaking practice they need to pass this course. Please call us for more details.
This is an introductory A1 according to the Common European Framework of References for Languages.
Teachers are qualified language instructors with experience.
What to bring
Activity Book – Gente Joven 1 Nueva Edicion
Course Book – Gente Joven 1 Nueva Edicion
*Level A1.1 – suitable for NEW STUDENTS.
Please refer to Terms & Conditions before enrolling to the course.