76 Peterborough Street, Christchurch City
Thursdays, 7.35 to 9.05pm
11 weeks - 16.5 hs
Feb 3, 2022

Term 1: Thursdays 3rd Feb to 14th April April 2022
This course is level B2.2 according to the Common European Framework of References for Languages.
If this is the first course you want to enrol in, please contact us before enrolling as we require to check your level in an informal meeting: 15 minute Level Test.
Joining this course means you have to be able to know and communicate in Spanish with the structures taught in levels A1-B2.
We use the book Aula Internacional 5 – Nueva Edicion plus a novel to discuss in class. Conversation is the goal of this course and make the most of your time in class talking and polishing your B2 level using typical complex language and vocabulary of this level.
If you have specific needs, for example, to improve your writing, you may need to consider taking some private lessons as well as the course to focus specifically on this area you require.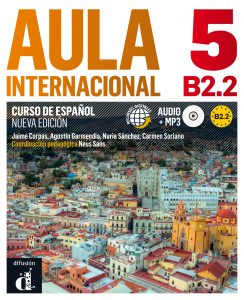 If we 2-3 students in the course, we will offer you to take the course at a slightly higher fee. This allow us to keep this course going at particular times of the year when we have less students.